Salary
UZ: 6500 PLN gross
UoP: 6500 PLN gross
* If we both decide to share our professional future together, your salary will be reevaluated, based on your progress and the feedback you receive.
Location
Kraków, ul. Przemysłowa 12A
Other people onboard
Dates: July 4th - Sept 30th, 2023
(with the possibility to continue working together later on)
Full-time* with 10 days of paid holidays
*Should we prolong our cooperation, we'll make sure you have all the flexibility of a part-time, hybrid work model to continue your studies or other engagements, and will be granted all perks available to u2i'ers.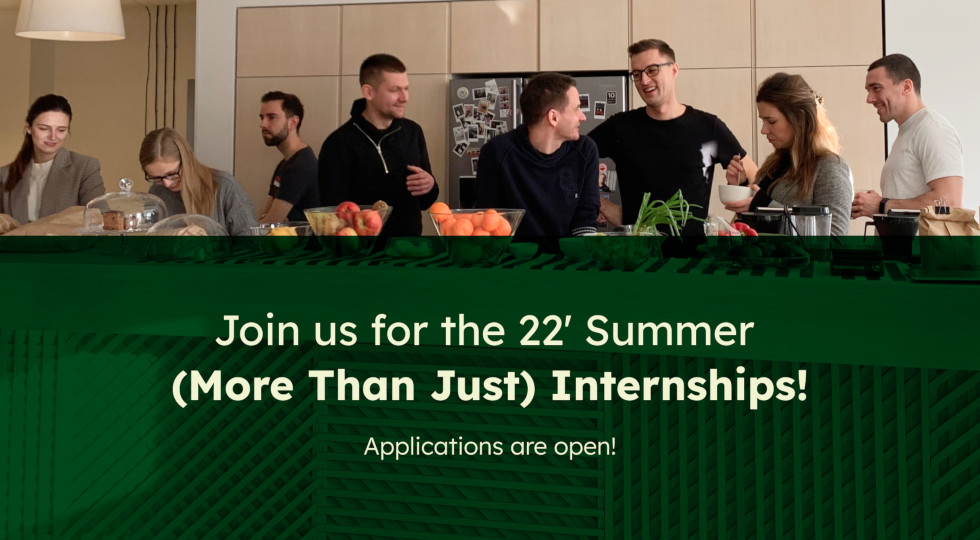 Hi! We're u2i - a tech company comprising ~65 problem-solvers with diverse skill sets in back end, front end, full stack, mobile, and UX design. And we're on the lookout for Software Developer Interns to join our teams in creating great products, hand in hand with our US-based Clients.
But most importantly, we hope to find a true colleague and friend who'll enjoy facing everyday challenges, striving for technical excellence, and growing together. We're seeking a partner who's in for the long haul, not afraid to experience all the shapes and sizes of software development, and excited to master an array of skills needed to become a great professional and grow as a person. Sounds interesting? If so, keep reading.
As a Software Developer Intern @u2i, you will:
join a 2-6 people team working directly with one of our Clients on a daily basis and experience all the flavors of a fully-fledged project from day 1,
learn how to develop great code, think creatively about a solution, and acquire consulting skills supported by your team members every step of the way,
have a real influence on what we build and how we build it, and contribute to the growth of a high-performing quality-focused team, which relies on trust, shared responsibility, and self-organization,
learn how to match the best tools for solving problems, and not the other way around - our stack varies from project to project, but you can definitely expect to come across some of the most popular technologies @u2i like: Ruby, Ruby on Rails, React, React Native, Python, AWS, MySQL, PostgreSQL,
make a tangible difference in people's lives by contributing to either of several EdTech or MedTech projects, or perhaps become part of the unwavering success of a Big Data product around social media platforms and measurement. Here's an overview of our ongoing projects.
We might be a great match for each other if you have:
0+ months/years ;) of experience in software development,
very good command of English (B2+) and feel comfortable using it on a daily basis,
acquired basic knowledge of at least one programming language used in web development which enables you to solve real problems,
basic knowledge of algorithms and data structures,
familiarity with the core concepts of relational databases.
We might also be a great match for each other if you are:
interested in developing complete solutions in direct partnership with our Clients,
a self-driven fast learner eager to discover new things, some of which go beyond your technical skills, and master the ones you already know,
a true problem-solver who's on a constant search of "the why" of things and decisions, you're proactive and disruptive of the status quo,
great to collaborate with,
a person with an open and curious mind, eager to experiment and see opportunities where others don't,
not afraid of taking responsibility for the solutions delivered when equipped with the tools and knowledge,
open to an office-first hybrid work model,
already legally authorized to work in Poland for the full extent of the internship.
What you also might like to know is that:
We're an employee-empowered company. This means that you will have an actual impact on the company's actions and a share in its profits. Also, we have incorporated many elements of a flat structure, so you won't have to work around any communication barriers. And finally, we believe that autonomy is the springboard for awesome ideas, so we'll give you the tools and independence to experiment and own your initiatives.
What are the perks and benefits @u2i?
Physical wellbeing:
yummy breakfasts, snacks, and fully-covered lunches, which you can have delivered to the office, or you can enjoy a walk to one of the hip restaurants nearby,
Multisport card and medical package,
flexible working hours,
your personal Mentor or - as we like to call it - a Shepherd.
Work arrangement for the internships:
full-time engagement,
office-based* (however in special circumstances we'll do our best to arrange for a bit of home-office),
10 days of paid holiday,
Macbook Pro,
*After the internships, you are welcome to switch to a hybrid work model :)
Learn more about us by reading a short piece by Corporate Rebels. Also, you can get a good grasp of how we navigate the waters of self-organization by tuning in to the "Z Warsztatu Leadera" podcast series - episodes 36 & 38 feature our fellow u2i'ers who share their perspective on the company's unique experiences.
What does the recruitment process look like?
Applications close on Apr 3rd. We'd love to get to know you a bit better so please, read the application form carefully and provide us with honest answers. There is no need to send us your CV!
Shortly after the applications close, we'll invite you to the next stage of the recruitment process which consists of a few programming tasks and one open-ended question to be answered in a short video(this will help us check your English skills, and learn more about your expectations towards the Internships). You'll have a few days to send us both the completed tasks and the video answer. You can be sure that you'll hear back from us by the middle of April.
BONUS (non-evaluation stage): On April 13th we'll hold a special event for top applicants! It'll be an afternoon filled with lots of fun, for you to get a better taste of u2i's vibes and culture, and chat with your potential fellow colleagues :)
The final stage of the process will be a ~1,5h interview at our office, where you'll have the chance to truly show off your skills. It will be held by 2 Developers and our Recruitment Devil. It'll take place in the second half of April, and you'll receive the final decision by the end of April.
Regardless of our decision, we'll make sure that you receive timely feedback during each stage of the process. If it turns out that we're a great match for each other, then welcome to u2i! We can't wait to start your onboarding shortly :)
If you feel the chemistry already just hit "apply" and let's give it a go!
Salary
UZ: 6500 PLN gross
UoP: 6500 PLN gross
* If we both decide to share our professional future together, your salary will be reevaluated, based on your progress and the feedback you receive.
Location
Kraków, ul. Przemysłowa 12A
Other people onboard